DOI:
https://doi.org/10.37010/duconomics.v2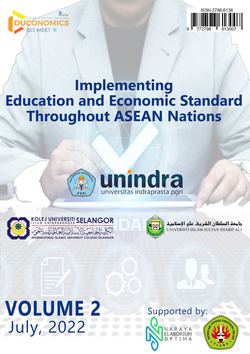 Standardization aims to receive benefits from a process, product, or service as well as objects that will benefit from an institution. Globalization that has occurred in this century has brought changes to all social life, there is no education and economic sector. In this era, education and the economy must be able to respond to and anticipate the development of labor market liberalization and the development of a science-based society. Therefore, innovations in various educational and economic methods and models must also be developed.
The equality of the qualification system between countries participating in the convention will provide wider mobility, create international experience for diplomas or certificates produced by educational and training institutions, and will facilitate the exchange of students, or experts. This is the urgency of the importance of understanding operating standards, quality standards, product standards, processes and audits that are recognized by many countries, to be adopted for certain countries that are members of ASEAN.
Table of Contents
| | | |
| --- | --- | --- |
| | Alni Nurfadhila Sari, Mujiyati Mujiyati | 1-10 |
| | | |
| --- | --- | --- |
| | Windi Haryani, Dwi Narsih, Saripah Saripah | 11-14 |
| | | |
| --- | --- | --- |
| | Arifatul Laili Taufani, Shinta Permata Sari | 15-23 |
| | | |
| --- | --- | --- |
| | Qory Annisa Kusumaningrum, Shinta Permata Sari | 24-32 |
| | | |
| --- | --- | --- |
| | Sana Salsabila, Rina Trisnawati | 42-55 |
| | | |
| --- | --- | --- |
| | Muhammad Ridwan Agung Patria Nagara, Erma Setiawati | 56-70 |
| | | |
| --- | --- | --- |
| | Bintang Laras Sekarningrum, Fauzan Fauzan | 71-84 |
| | | |
| --- | --- | --- |
| | Dewi Nurbaiti, Edwin Sholeh Rahmanullah | 85-92 |
| | | |
| --- | --- | --- |
| | Meilani Safitri, M.Ridwan Aziz | 93-103 |
| | | |
| --- | --- | --- |
| | Nagarubini Paramasivam | 104-108 |
| | | |
| --- | --- | --- |
| | Posma Sariguna Johnson Kennedy, Yudi Sutrasna, Haetami Haetami | 109-119 |
| | | |
| --- | --- | --- |
| | Sri Wiliah Ningtiasih | 120-125 |
| | | |
| --- | --- | --- |
| | Ria Susanti Johan, Desy Septariani | 126-137 |
| | | |
| --- | --- | --- |
| | Muhammad Hidayat, Dona Fitria, Adi Artino | 138-150 |
| | | |
| --- | --- | --- |
| | Bay Haqi, Jonser Sinaga | 151-157 |
| | | |
| --- | --- | --- |
| | Mutia Dila Kemala, Nicky Rosadi | 158-162 |
| | | |
| --- | --- | --- |
| | Febry Yeni Anwar, Evi Handayani | 163-175 |
| | | |
| --- | --- | --- |
| | Bunga Aditi, Pasaman Silaban, Yusuf Ronny Edward | 176-182 |
| | | |
| --- | --- | --- |
| | Deddy Dariansyah, Eliza Eliza | 183-193 |
| | | |
| --- | --- | --- |
| | Siti Marti'ah, Berta Dian Theodora | 194-207 |
| | | |
| --- | --- | --- |
| | Tri Soekrisno Moyong, Burhanudin Burhanudin, Ismail Dwi Cahyo | 208-215 |
| | | |
| --- | --- | --- |
| | Ajie Maulana, Adeng Hudaya | 216-225 |